ACRE Network Manifesto 2021: Speaking up for Rural Communities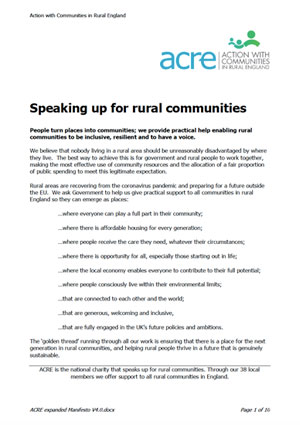 We believe that nobody living in a rural area should be unreasonably disadvantaged by where they live.
The best way to achieve this is for government and rural people to work together, making the most effective use of community resources and the allocation of a fair proportion of public spending to meet this legitimate expectation.
In the wake of the pandemic, ACRE worked with it's members to come up with a set of policy proposals for the benefit of rural communities.
This 'manifesto' sets out the areas in which we are working to bring about change on behalf of people living in the countryside and the connections that need to be made between national policy and local action.