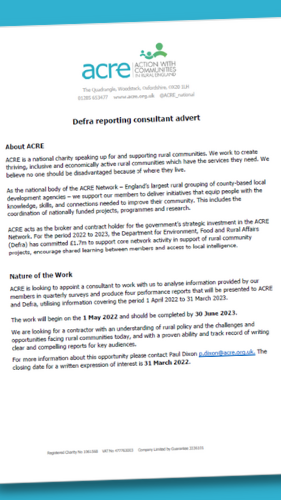 ACRE is looking to appoint a consultant who can help with our quarterly reporting to Defra
We are seeking a consultant to work with us to analyse information provided by our members in quarterly surveys and produce four performance reports that will be presented to ACRE and Defra, utilising information covering the period 1 April 2022 to 31 March 2023.
We are looking for a contractor with an understanding of rural policy and the challenges and opportunities facing rural communities today, and with a proven ability and track record of writing clear and compelling reports for key audiences.
The work will begin on the 1 May 2022 and should be completed by 30 June 2023.
For more information about this opportunity please contact Paul Dixon p.dixon@acre.org.uk. The closing date for a written expression of interest is 31 March 2022.