Rural affordable housing. Does it really matter?
Margaret Clark, President of ACRE and Chair of the Rural Coalition, provides a guest blog for ACRE on the need for affordable housing in rural communities.
There have been a number of reports in the media recently about the lack of affordable housing in rural areas. Coastal and other tourist hotspots are particularly hard hit, but the problem is not limited to those areas. Moreover, the recent pandemic has resulted in more people wanting to live and work from home in the countryside, to have a rural 'bolt-hole' or simply to visit. There has been a growth in holiday lets and Airbnb properties over the past few years in response to rising demand.
As a result, prices of homes to buy have risen further and the availability of places to rent on a long-term basis has reduced, as well as becoming more expensive. For people on low incomes owning or renting a home in a rural area is becoming a pipe dream.
But does it matter? Why shouldn't people be able to choose to live or have a holiday home where they wish? Isn't the consequent rise in prices simply the market working? As Norman Tebbitt once famously said, shouldn't those who can't afford to live locally get on their bikes and go elsewhere? No-one has an absolute right to live where they please, do they?
The problem is that many people providing local services and jobs are unable to 'choose' to live locally near to their jobs, their family and social networks. They cannot afford to do so. Rural wages are lower than average; latest figures show that even the price of lower end rural homes are over 9 times that of those on lower end earnings. A whole range of people, such as teachers, carers, those working on the land, in shops, pubs, hotels and many other local businesses, are finding themselves priced out of the countryside, exacerbated by the cost-of-living crisis.
Does it matter? Couldn't people simply live in a nearby town and drive or be bussed in to do the jobs needed. Why do they need to live locally?
As well as jobs, many have important local links, with family – parents, siblings, other relations – living locally. They have social networks. Their children go to the local school.  For some, they have lifelong links to places. They are part of the fabric of the locality.  Jobs are not all commutable but need people to be on hand. Partners and children need local work too.
Basically, the question we need to ask ourselves is what we want the countryside and rural England to be in the future. Is it to be a preserved landscape, a wilderness, a theme park, a museum, a place where only the wealthy can live? Or do we want a living, working countryside, which contributes to national and local well-being, economically, socially and, importantly, environmentally?
This is what it has always been. Rural England is home to a wide range of economic activity in addition to farming and land based jobs – there are nearly 550,000 registered businesses of which the vast majority are in non land-based sectors – and it will have a critical role to play in the development of the green economy and the move to net zero. As well as underpinning the nation's future, the new technologies and jobs created will also help to diversify rural economies, many of which are overdependent on a narrow range of business, such as tourism, and provide better paid jobs and opportunities.
Rural areas need thriving communities, which sustain a mix of people from all walks of life, ages and backgrounds. In the past we used to talk about 'balanced' communities and, whilst that is probably too simplistic or unrealistic an ambition, we do need to adjust some of the imbalances which characterise many rural places at present – an ageing population, a lack of young families, few opportunities for young people, who are forced to move away to further their education, and few people from ethnic minority groups.
Housing has a major role to play and goes hand in hand with jobs. To put it simply: we need more affordable housing, of all types, in rural areas if we are to tackle some of the current inequalities and seize the opportunities in the future. We need to enable people from all backgrounds to contribute to the future of rural areas.
At the moment, we have a housing crisis in the countryside. Too many homes of the wrong sort are being built. There is widespread concern that they are predominantly large estates of executive homes. There are simply not enough truly affordable homes – affordable to those on local wages and incomes – to go round.  This is not a new phenomenon. We have not built sufficient affordable homes for many years. At the same time, the supply of private rented housing has been reducing and could accelerate with the need for landlords to meet stricter energy requirements, coupled with the financial benefits from short-term and holiday lets.
Successive governments have introduced measures to help people get on the housing ladder and to broaden the opportunities for people to own their own homes. This is to be welcomed but for many in rural areas, home ownership is still only a distant aspiration. What is needed is more affordable housing , and for it to be safeguarded for the future.
More housing can be provided through housing associations and/or Community Land Trusts and protected from any Right To Buy. We know how to do this. We have a tried and tested model. Housing associations, such as Hastoe Association, which I used to chair, and English Rural Housing Association, have a proven track record in developing good quality, well-designed, affordable rented homes in rural areas working closely with the local communities involved. They, and others like them around the country, could – and should – do more. But to do so, there needs to be a much more ambitious rural housing programme supported by government through Homes England and a more positive attitude to small-scale developments.
There are genuine concerns about the need to retain young people and families, to provide places for older people to move into and remain in the community and to stop village communities from dying through lack of new blood. Almost every village in England could sustain a small number of new, affordable homes being built – from half a dozen to twenty or so – to meet local needs. Most villages would welcome such small-scale development and the results, as I know from my own village, can be transformative. Two small developments – one by Hastoe of rented housing and the other a private development of intermediate housing – both safeguarded to meet local needs now and in the future have led to young families and those with a local connection remaining in the village. Not only has this contributed to a vibrant community life but the number of children waiting for the school bus outside our house has grown exponentially in recent years! The emphasis should be on how we achieve this, not why should we do it.
Alongside such a rural housing programme we need to look at tackling the problems in the rural housing market elsewhere. How can we incentivise landowners and others to provide rented accommodation; how do we reduce the loss of housing to the tourism or second-home market in a fair way; how can we enable new housing for sale to be built in a more sustainable way without swamping small localities and placing unacceptable pressures on local services?
There is much to value in our rural communities, and we should celebrate the desire of people to visit and enjoy its benefits. The risk is, without addressing the housing needs of the local communities within the countryside, we will end up destroying much of what we love.
In the run-up to the forthcoming general election rural issues are likely to come to the fore and now is the time to press all the political parties on how they will address the issues affecting rural communities and businesses, in particular increasing the supply of affordable rural housing. At the end of the day, however, what will be equally important is to ensure that whoever wins the election turns promises into real action.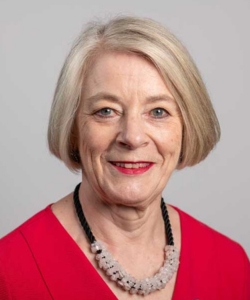 There is much to value in our rural communities, and we should celebrate the desire of people to visit and enjoy its benefits.
The risk is, without addressing the housing needs of the local communities within the countryside, we will end up destroying much of what we love.