Holding special events – is your village hall covered?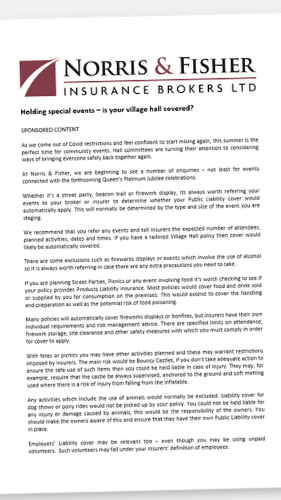 Many communities are planning exciting events for the Spring and Summer, whether it's the traditional Village Fete, celebrations for the Queen's Platinum Jubilee in June or a music or beer festival. ACRE Network members can help by providing information or by signposting to the relevant organisation.
Risk assessment is key to keeping everyone safe . There are many pro-forma models available which will include managing crowds safely, fire safety, electrical equipment, waste management and first aid.
To help community groups including village halls think about the insurance aspects of holding events, Tom Ingram of Norris & Fisher (Insurance Brokers) Limited has prepared an article which can be downloaded below. Tom tells us "It is very important that hall committees notify their insurers or broker at the planning stage"
Village hall management committees should also be aware that ACRE's Information Sheet 9, Entertainment in Village Halls, details the licences that are likely to be needed.  This information can be obtained from local ACRE members.
So plan ahead and enjoy your events this Summer!