In praise of the ACRE Network!
Village Halls Week 2021 has been a celebration of village and community hall charities and the volunteers that manage them day to day – which is exactly as it should be. They undertake a wide variety of roles from cleaning and fitting light bulbs, to minute taking and managing risk assessments. A truly talented group of people who get involved for a range of reasons, but mostly because they care about their local community. ACRE really hopes that they have learnt, shared, and enjoyed the activities available this week.
The 10,000 village and community halls to be found across rural England are subject to the same rules and regulations as other buildings that are open to the public. They are also accountable to the Charity Commission. The compliance and bureaucracy has grown significantly since the 1920s when the first halls opened their doors. But what has not changed is the dedication of the 38 ACRE Network members, or Rural Community Councils as they were known then, which have consistently supported these community buildings over the years. As charities in their own right, they too rely on the support of local authorities, grants, sponsorship, and membership fees to provide their services.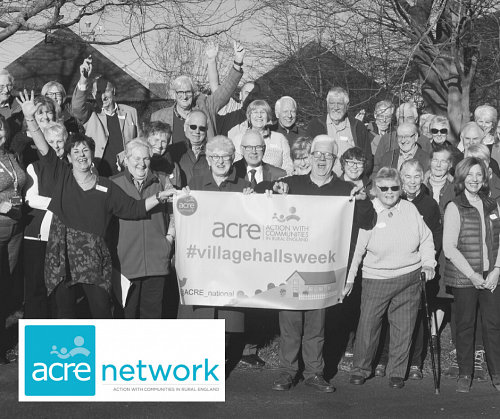 Behind the websites, blogs, publications, advice sheets and training events are small teams striving to make sense of the legislation and deliver it in a way that the volunteers will understand. Reading, researching, and supporting each other they seek to provide the best service possible in their respective counties and reach out to whichever village hall committee needs them at the time. For instance, a hall committee could be looking for funding sources or perhaps they are setting up a bar and need assistance with understanding licensing legislation.
No one could have predicted the demands put on the ACRE Network members in the last 12 months. All 38 organisations, as well as ACRE, were inundated with hundreds of telephone calls and emails from volunteers they were regularly in touch with, but also from hall committees and organisations they had never heard of before. Their offices were shut, calls were transferred to their home offices and they had to rapidly learn how to provide online activities and events alongside home schooling and other commitments. Understanding the changing Government regulations was a steep learning curve. All this was carried out with willingness to help and a determination that village and community halls could get through the challenges of COVID-19.
So today, as Village Halls Week 2021 draws to a close, we should celebrate not only the hall charities and volunteers but the professionals who make up the ACRE Network who have also been providing specialist support behind the scenes for the last 100 years.
Blog by Deborah Clarke, ACRE's Rural Evidence and Village Halls Manager
For more information about Village Halls Week 2021, please visit: https://acre.org.uk/our-work/village-halls-week
Behind the websites, blogs, publications, advice sheets and training events are small teams striving to make sense of the legislation and deliver it in a way that the volunteers will understand