Making sure your hall is insured for firework displays and bonfires
Corporate partners of ACRE, Norris & Fisher (Insurance Brokers) Ltd and Ansvar Insurance have compiled the following guidance to help halls host safe events
SPONSORED ITEM
Fireworks and bonfire displays are popular activities and an important social event for all communities.
If you have a specialist Village Hall insurance policy, then cover will likely be automatically included for such events. However, it is worth checking with your broker or insurer as there will be attendance limits and guidelines imposed due to the risks involved.
It is worth notifying your insurers with details of planned events just in case of any incident. You should also declare if you, as a committee, are not responsible for any aspect of the event or if the display is taking place away from your premises.
If you notify insurers and follow any terms or guidance advised, then your policy will protect you if a spectator is injured by a firework or if a neighbouring property is damaged.
Norris & Fisher Insurance Brokers Ltd and Ansvar Insurance have compiled the following Risk Management guidelines to ensure a safe event.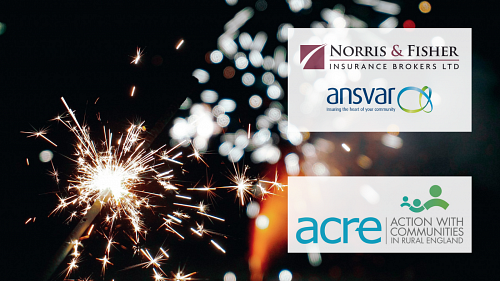 Firework displays and bonfires with crowds of people can result in personal injury or property damage. The key to a successful event is responsible planning. You should consider the following as part of your wider risk assessment for holding a firework display or a bonfire:
informing the local fire service and local authority as you may require a licence
appointing a responsible adult (with experience of fireworks) to be in overall control of the event including storage, siting and lighting of fireworks
choosing a site well away from buildings, trees, overhead cables and any roads or railways
ensuring suitable fire-fighting equipment is available e.g., fire extinguisher(s) or bucket(s) of water
only fireworks compliant with British Standards are used and ensure that the manufacturer's instructions are read and complied with
any bonfire is free of any dangerous materials/products e.g., foam, plastics, aerosols, paint tins or bottles
You can also obtain a copy of 'Giving Your Own Firework Display' booklet – Ref. HSG124 – from the Health and Safety Executive.
If you are using a third party to run the firework display, then you should ensure that they hold adequate Public Liability insurance. You may benefit from increased capacity limits if this aspect of the event is being carried out by professionals. However, you need to be clear as to who is responsible for what, especially in the event of an emergency and evidence this. It may be that even though you are not responsible for the fireworks themselves, if a claim were to occur then the hall committee could still be held accountable in a legal action.
Should the event be held on a neighbouring property or public land rather than at your premises then cover would be provided for your activities only, there would be no cover for injuries or damage to property arising from the land itself. This is the responsibility of the owner of the land, who should have their own liability insurance (under a farm policy, for example).
It is worth notifying your insurers with details of planned events just in case of any incident