Action with Communities in Rural England (ACRE) seeking new Chief Executive
The rural charity that works to make sure no one is disadvantaged by where they live has announced it is seeking a new leader to help shape its future
The vacancy comes as Richard Quallington, ACRE's current Executive Director, announced his departure to colleagues in the ACRE Network; a collection of county-based organisations that support and represent rural community groups and projects from the running of the village hall to community-led affordable housing schemes.
Speaking of his decision to step down, Richard said, "It has been a great honour to play a small part in ACRE's achievements over the past 8 years including refocusing its work on end beneficiaries, reshaping its role and rebuilding relationships with members, growing and developing our partnership with Defra and other likeminded organisations nationally, and establishing a greater national policy and comms presence on behalf of the ACRE Network and its beneficiaries."
Richard's news comes a year after ACRE appointed its new Chair, James Blake.
James said, "It has been a genuine pleasure to work with Richard. I am extremely grateful for the tireless contribution he has made to ACRE and its beneficiaries over the last 8 years. He will be leaving the organisation in a better place with a strong reputation that the new post-holder will be able to build on as we look to the future."
Applicants to the position are expected to share ACRE's passion for having a real and positive impact on rural communities, especially those who are most disadvantaged by living in rural areas. They also need to have experience of working at a senior level on policy matters and/or with a network of autonomous organisations.
Commenting on the vacancy, James added, "These are exciting times for a committed, flexible, and adaptable individual to provide inspirational leadership for our small but highly capable organisation.
The successful candidate will be joining at a critical time in the run up to the next election which provides a real opportunity to put the concerns of rural communities firmly on the map – while, at the same time, continuing to deliver for members who help rural communities with the very significant challenges of the energy and cost of living crises. I look forward to working closely with the new CEO to help deliver ACRE's mission to ensure that no-one in rural areas is disadvantaged by where they live."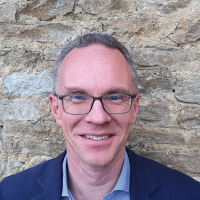 "These are exciting times for a committed, flexible, and adaptable individual to provide inspirational leadership for our small but highly capable organisation."
James Blake, ACRE's Chair