England's village halls asked about the impact of rising energy prices
A survey is being conducted to better understand the needs of England's 10,000+ rural community buildings as energy prices continue to soar
National charity, Action with Communities in Rural England (ACRE) and Utility Aid are calling on volunteer management committees to share their experiences, concerns and views on what can be done to make sure village halls do not run into financial difficulties and save energy.
The move comes amid fears that village halls are not covered by Ofgem's price cap and may be particularly vulnerable to volatility in the cost of commercially supplied energy which has increased by 166% for electricity and 189% for gas in the past year. According to Utility Aid, prices continue to rise with gas supplied to commercial premises now costing one third more than last week.
The volunteers who manage Hunsdon Village Hall in Hertfordshire are one of many rural community groups voicing concern about the spiralling cost of energy. John Felstead, a trustee of the hall explained, "Like everyone, we have seen our energy bills rise exponentially over the last few years. However, as a charity we do not qualify as a domestic user and are therefore put on a business tariff. This means there is no energy cap. Here in Hunsdon we have a Grade II listed building which was built in 15th century and leaks heat. We would dearly love to improve the insulation, but the Listed Building status make that very expensive. And as a 'not for profit' organisation, funds are scarce, and we rely on income from hiring out our hall or organising fundraising events to make improvements or repairs."
Richard Quallington, ACRE's Executive Director said, "It's important we understand how village halls are weathering the fuel crisis and what can be done to make sure the services they offer to rural communities are not jeopardised. Many halls were built during the inter-war period and do not always have efficient heating and insulation, so bills are likely to be going – quite literally – through the roof! Ultimately, we want to be in a position where we can help management committees to future-proof their buildings and encourage them to take a leading role in achieving net zero locally.  Of course, that will require funding, so this is our first attempt at appraising this need."
Utility Aid are corporate partners of ACRE. As the largest energy broker for the not-for-profit sector, they want to be able to use information from the survey to offer more targeted support for village halls. Giles Hankinson, Utility Aid's Chief Executive Officer explained, "The halls we are speaking to day-in, day-out are telling us they are very concerned about increasing energy bills. We are doing everything we can to help them find the best deal, however, more can be done to help these community buildings in the long run. This survey will help to tailor our services according to their needs. At the same time, we are also keen to work with ACRE to find ways of levering in more funding for halls to make sure they can save energy as well as money in the long run."
The survey is being made available online and responses can be submitted until midnight Friday 30 September.
Notes to editors
Media contact: Phillip Vincent, p.vincent@acre.org.uk, 01285 425645
ACRE (Action with Communities in Rural England) is a charity speaking up for and supporting rural communities. Members of the ACRE Network operate a nationwide information and advice service for village halls, helping management committees with a wide range of concerns from holding AGMs to recruiting volunteers, applying for funding and building relationships with councils.
Utility Aid are the largest energy broker for the not-for-profit sector.  Utility Aid's partnership with ACRE is helping maintain the national village hall service as well as supporting its development for the future. Utility Aid will check halls are on the right meter profile, review the costs of existing tariffs and identify the lowest possible prices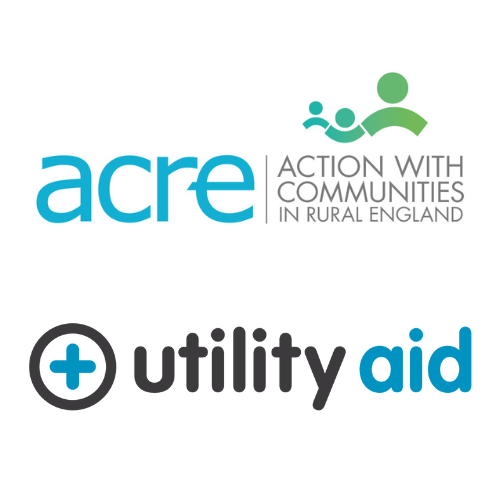 "It's important we understand how village halls are weathering the fuel crisis and what can be done to make sure the services they offer to rural communities are not jeopardised"
Richard Quallington. Executive Director of ACRE