Research reveals impact of the pandemic on village halls
Whilst 3 in 20 halls supported Covid relief efforts, the majority stayed closed and will need ongoing support and funding to recover.
Much has changed since England's 10,000+ village halls were surveyed at the beginning of 2020 by national charity, Action with Communities in Rural England (ACRE).
Almost immediately after the survey closed, so too had the majority of these buildings – and with it the community activities, events and rural livelihoods they ordinarily provide a space for.
Now, new research sheds light on the extent to which halls have been variously affected by three successive national lockdowns.
15% of halls contacted said they had played an active role in supporting their community during the pandemic. Taking advantage of exemptions in the regulations, they provided a limited number of 'essential services' to support vulnerable members of their community and help the NHS – sometimes without any additional resources.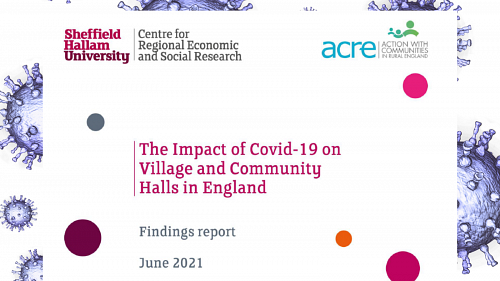 Through its network, ACRE is aware of a number of halls, such as Wraysbury Village Hall in Berkshire and Yarm Community Centre in Durham, that have stepped up to the plate and used existing facilities to prepare meals on wheels and delivery services providing a lifeline to isolated members of the community.
Others, like Frenchay Village Hall in Gloucestershire continued to provide childcare for key workers and in Mawdesley Village Hall in Lancashire, the committee went one step further and transformed their main hall and annex to help their local primary school accommodate more children safely for the last three weeks of term last year.
Creative solutions were also found in the face of crisis. For example, in Warwickshire, the volunteer committee managing Shotteswell Village Hall set up a scrubs' hub making protective clothing for NHS workers.
And more recently, some village halls like Clifton Hampden Village Hall in Oxfordshire have been used as vaccination centres serving the wider rural area.
But aside from these inspiring examples of community camaraderie, many halls expressed concern that they would find it hard to attract volunteers and users back once they reopen, particularly older generations who may be less inclined to meet in person.
Dr Tom Archer, of Sheffield Hallam University who authored the report said, "Halls face major challenges in reopening and re-establishing services. The pandemic has had a significant impact on their volunteers and staff, as well as their users, and the future remains very much uncertain.
What we've learnt is that the last year has affected halls in diverse ways. Whilst a third of respondents to the survey said their financial situation had improved during the past year, a similar proportion said their situation had worsened, with many drawing on their reserves. Most worryingly, we have reason to believe at least 140 halls nationally could close and not reopen without further support."
Deborah Clarke, ACRE's Rural Evidence & Village Halls Manager said, "The research demonstrates a clear and urgent need for continued funding support to be made available to village halls during this period of uncertainty, particularly those facing financial difficulty. This should involve bridging funds and continued relief from business rates."
ENDS
Notes to editors
Media contact: Phillip Vincent, p.vincent@acre.org.uk, 07531107129
Findings are based on a follow up questions to the 2020 Village Halls Survey, answered by 1,017 halls from across England between March and April 2021. The research was undertaken by The Centre for Regional Economic and Social Research, Sheffield Hallam University on behalf of ACRE and funded by the Department for Environment and Rural Affairs.
ACRE (Action with Communities in Rural England) is a national charity speaking up for and supporting rural communities. It is the national body of the ACRE Network, England's largest rural grouping of county-based local development charities which together reach over 35,000 community groups annually, and lever in over £34 million each year in support of rural communities.
The research demonstrates a clear and urgent need for continued funding support to be made available to village halls during this period of uncertainty, particularly those facing financial difficulty