Rural Coalition response to the Levelling Up White Paper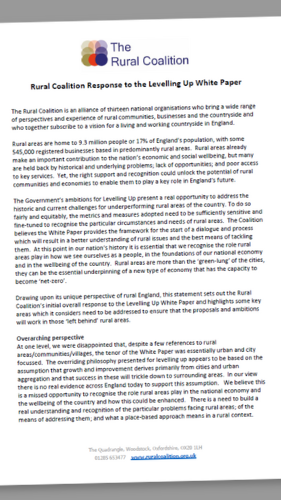 The Government's ambitions for Levelling Up present a real opportunity to address the historic and current challenges for underperforming rural areas of the country. To do so fairly and equitably, the metrics and measures adopted need to be sufficiently sensitive and fine-tuned to recognise the particular circumstances and needs of rural areas.
Drawing upon its unique perspective of rural England, this statement sets out the Rural Coalition's initial overall response to the Levelling Up White Paper and highlights some key areas which it considers need to be addressed to ensure that the proposals and ambitions will work in those 'left behind' rural areas.
The Coalition believes the White Paper provides the framework for the start of a dialogue and process which will result in a better understanding of rural issues and the best means of tackling them.