Without affordable housing, rural communities are at risk of becoming lifeless, dormitory settlements
Phillip Vincent, ACRE's Communications Manager, blogs for Rural Housing Week 2021 and provides a view on the need for the government to get behind communities and deliver affordable homes in the countryside.
Recently, there has been growing alarm about Covid-related urban flight to the countryside, where housing stock is hoovered up by home workers or purchased as holiday lets or second homes.
Rightly, critics point to consequences such as the upward pressure on house prices, the inability of local residents to compete with this, the loss of younger generations, and the possibility of some villages in more attractive areas becoming empty during the week which in turn impacts on the viability of local shops and services.
It is too simplistic however, to put the blame on wealthier individuals desiring a better life in the sticks or to say the solution is to put an end to second homes or limit the available housing stock to people who have a connection to the local area. The issue runs much deeper and one which is about to be magnified as part of the government's proposal to up-end the planning system.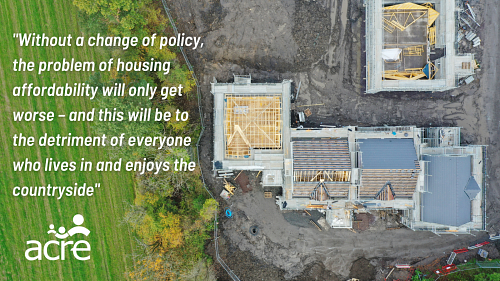 The truth is, there has been a longstanding under-supply of new homes in the countryside, particularly those that are affordable to local residents. Successive governments have failed to address this, either through planning reforms or subsidy. In 2019, just 5,558 new affordable homes were built in villages with a population less than 3,000, whilst 80% of completions were private sector dwellings.
It is unsurprising then that the situation appears to be coming to a head at a time when people are spending more time at home and cannot travel overseas. England's rural areas have many attractions for those seeking more space.
But ahead looms an even bigger danger. A two-tier countryside torn apart by planning proposals that discriminates between those rural areas that must be protected from development, and those at risk of being swamped by large, inappropriate developments on the fringes of urban settlements. In more scenic areas such as national parks and areas of outstanding natural beauty, constraints on development will invariably push prices up even higher. And where housing does get built, changes to the Community Infrastructure Levy could weaken the ability of local authorities to meet the need for affordable and specialist housing in their area.
So, what can be done? Well, there are some good examples of community-led affordable housing schemes that provide insight into the type of initiative that could be embraced at scale by government. The small village of Foxton, where Cambridgeshire ACRE helped the local community identify local housing need, find a site and have a say in the design of 15 homes let at affordable rent. Or Woodstock, in Oxfordshire where the Blenheim Estate supported by Community First Oxfordshire provided a mix of affordable housing to meet the needs of the local community and market housing, providing a financial and social return on investment.
As part of Rural Housing Week 2021, we are pleased to be joining members of the Rural Housing Alliance in promoting a new Parish Councillors Guide to Affordable Housing which sets out how schemes like these can be developed.
The trouble is these exemplar affordable housing initiatives are few and far between and may become even more difficult to achieve if the planning system is changed in the way currently proposed.
Just 17% of England's population live in rural areas, and yet many more see the benefit of doing so. At the same time, many rural villages need to grow in order to sustain local services and businesses.
Without a change of policy, the problem of housing affordability will only get worse – and this will be to the detriment of everyone who lives in and enjoys the countryside.
Perhaps the time has come for a fresh look at what it takes to make sustainable rural communities. Communities that embrace growth, so they are open, inclusive and thriving. Communities that enable more people to live near their families, their jobs, where their food comes from and where they can enjoy a healthier quality of life. But that will require bold decisions by government, and a planning system that works with communities to deliver significantly more housing and infrastructure that meets the needs of people living and working in a 21st Century countryside.
Without a change of policy, the problem of housing affordability will only get worse – and this will be to the detriment of everyone who lives in and enjoys the countryside