More can be done to promote rural mobility and make sure residents are not disadvantaged by the location in which they live
Action with Communities in Rural England (ACRE) has responded to the government's proposed rural transport strategy with recommendations for joining up policy initiatives to achieve greater impact.
Isolation and access to services and employment has been a perennial concern for many rural communities. However, over the past decade, these issues have been exacerbated by the loss of public transport connections combined with the centralisation of public and commercial services – often to urban centres.
In its public consultation, Future of Transport: rural strategy, The Department for Transport acknowledges that a reliance on the car in rural areas means that those without private transport can find themselves cut off from various opportunities, whilst hindering the government's broader ambitions for decarbonisation and levelling-up opportunities for everyone.
The draft strategy proposes that various innovations in transport planning and delivery can address these concerns, such as promoting more active travel, flexible and demand responsive services, as well as embracing new technologies such as e-scooters, self-drive vehicles, and drone deliveries.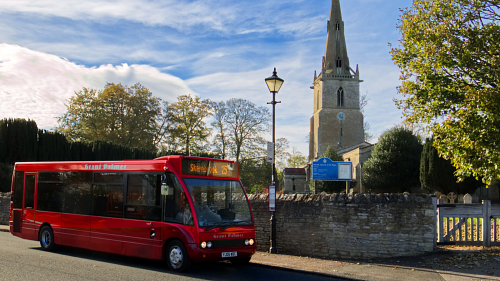 ACRE welcomed the recognition that rural areas need transport solutions appropriate to their unique circumstances but is concerned that more needs to be done.
Jeremy Leggett, ACRE's Policy Adviser said, "We applaud the government for recognising that a different approach is needed to improve rural mobilities. However, the strategy is limited insofar as it relies on distant technological innovations which may do little in the short to medium term to address the barriers those without cars face in terms of accessing services and employment. To achieve this, we would like to see a more joined up and 'rural proofed' approach to policy making which places individuals and families, wherever they live, at the centre of government initiatives".
The charity makes several recommendations in its response to the consultation, including: a high-level government commitment for ensuring nobody living in a rural area will be unreasonably disadvantaged in gaining access to public services, a requirement for service providers to factor in the financial costs and carbon footprint of users travel when making decisions, backing existing social enterprise approaches to community transport and the delivery of gigabit capable broadband and 5G.
ENDS
Notes to editors
Media contact: Phillip Vincent p.vincent@acre.org.uk; 07531107129
ACRE (Action with Communities in Rural England) is the national body for 38 charitable local development agencies. Together we make up the ACRE Network. Our vision – to be the voice of rural communities – is supported by the wealth of evidence and intelligence on rural matters that we collect from our members.
ACRE members provide support for community transport schemes which provide a tailored solution to rural mobility issues.
Download ACRE's policy response
We would like to see a more joined up and 'rural proofed' approach to policy making which places individuals and families, wherever they live, at the centre of government initiatives