What a difference a year makes…
Phillip Vincent, our Communications & PR Manager reflects on Communities Week 2020 and asks what can be learnt from the ACRE Network's experience of supporting rural projects in these uncertain times.
This week is a celebration of the contribution that community projects make to people's lives and the places in which they live. The chorus of praise and stories of inspiring initiatives is likely to be more pronounced than ever this year as across the country many people have volunteered – sometimes for the first time – to help others in their community in response to Covid-19.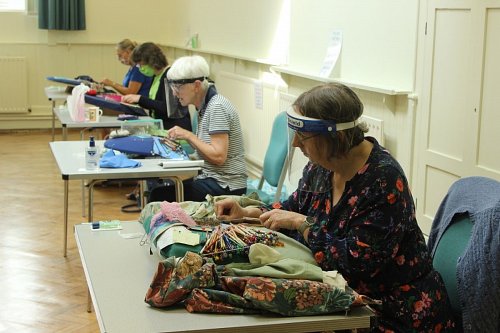 In rural areas, members of the ACRE Network saw hundreds of mutual aid groups spring up overnight, whilst the ranks of existing good neighbour schemes swelled. And the volunteers that run England's 10,000+ village halls too have shown great resilience in the face of adversity having been forced to close their doors, apply for emergency funding and then reopen safely. You can read about some of these stories here.
The net impact of this community activity is hard to quantify but there is no doubt in our minds that without it, many vulnerable people would have gone without support, rural communities would have been a lot lonelier and primary care services would have been under even more pressure.
But what can be learnt from the whole affair?
The community response to Covid19 is reassuring but not surprising. Historically, rural communities have looked after their own interests in the absence of state-run services and support. But the significant increase in community initiatives and the diversity of people who volunteered during the pandemic – particularly younger people – goes to show there is a greater sense of shared belonging and enthusiasm that can be tapped into.
The means by which rural communities have organised has changed. Traditionally, many resident-led initiatives have relied on face to face gatherings, often in the village hall. But in lockdown, almost all activity was arranged online through applications such as Zoom, WhatsApp and Facebook. There has never been a time when reliable, fast rural broadband has been more needed.
Whilst communities have clearly proved that they are capable of self-organising during the crisis, sustaining such groups requires longer term support. Cementing the work of mutual aid groups into structured good neighbour schemes for example is indeed possible but we also know this requires organisation, governance, and funding.
The burden of responsibility on volunteers managing community assets such as village halls has been particularly acute. Many committees were extremely worried their charities would not survive lockdown without income from hiring out their hall. Without the support of the ACRE Network, many would not have accessed emergency Covid funding. Nor would they have been able to negotiate the extremely complex and frequently changing government rules on social distancing had ACRE not produced comprehensive information for village halls.
Sometimes it can be difficult for groups to know where to access support. That's why ACRE has teamed up with the My Community online platform which provides a directory of support and resources available from leading community and voluntary sector organisations. We're especially pleased the site includes information about how groups can respond at times of crisis.
Lastly, a fresh look at rural civil society is needed. In many ways the rural community response to the pandemic has stood in sharp contrast to top-down, state intervention. Where the government lacked the agility in its response, communities working together through civil society organisations, were better able to see the links between local needs and resources, and therefore better placed to find joined-up ways of addressing them in the most efficient and effective way.
The pandemic has clearly shown the value of community led action. This approach must be encouraged, resourced and built upon in the long run.
Photo Credit: Rural Action Derbyshire – image of Lacemaking Group @ Tansley Village Hall
In many ways the rural community response to the pandemic has stood in sharp contrast to top-down, state intervention